SUITCASE® Singlefold Ramp
Ask a Question
Read More
Minimize
This portable ramp, with its single-fold design, sets up quickly and is ideal for scooters and wheelchairs. Made of lightweight aluminum with an easy-to-carry design, the SUITCASE Singlefold Ramp is fitted with ergonomically-designed handles and a full-length hinge for additional strength and stability. Designed for high traffic use, this durable ramp is available in 2' to 8' lengths and features an extruded slip-resistant tread for superior traction. Browse through the tabs below to learn more.
Ramp sizes: 2ft, 3ft, 4ft, 5ft, 6ft, 7ft, and 8ft. See SUITCASE Size Chart.
Related Products
These products may also interest you
This product also resides in the following industries:
These buttons will take you to the respecitve category
Singlefold Ramp Hinge
The Singlefold ramp features a continuous, no pinch, low profile hinge that runs the full length of the ramp to add strength and stability.
Ergonomically-designed Handles
These make your SUITCASE Singlefold Ramp easy to carry, wherever you may go. Flexible and non-breakable, these handles offer ultimate comfort when carrying your portable ramp.
Slip-resistant Tread
The extruded (built-in) tread allows mobility devices to retain traction in all weather conditions.
Self-adjusting Bottom Transition Plates
Easily convert a mobility device from the SUITCASE Singlefold Ramp to any terrain with two independently self-adjusting bottom transition plates.
SUITCASE SF02

SUITCASE SF03

SUITCASE SF04

SUITCASE SF05

SUITCASE SF06

SUITCASE SF07

SUITCASE SF08

Made of Aluminum

√

√

√

√

√

√

√

Slip-resistant Surface

√

√

√

√

√

√

√

Built-in carrying handle

√

√

√

√

√

√

√

Usable Size

2' x 30''

3' x 30''

4' x 30''

5' x 30''

6' x 30''

7' x 30''

8' x 30''

Folding Size (L x W x H)

24" x 15" x 4"

36" x 15" x 4"

48" x 15" x 4"

60" x 15" x 4"

72" x 15" x 4"

84" x 15" x 4"

96" x 15" x 4"

Weight*

11 lbs.

17 lbs.

23 lbs.

29 lbs.

34 lbs.

41 lbs.

47 lbs.

Weight capacity

800 lbs.

800 lbs.

800 lbs.

800 lbs.

800 lbs.

800 lbs.

800 lbs.

For Wheelchairs & Scooters

√

√

√

√

√

√

√

Usage Guidelines**

Curbs

1 Step

Curbs

1 Step

Curbs

1-2 Steps

Curbs

1-2 Steps

Some minivans

1-3 Steps

Some minivans

SUVs

1-3 Steps

Some minivans

SUVs

2-3 Steps

Some minivans

SUVs
NOTE: Weights and dimensions are approximate and subject to change.
*Weights are approximate and may vary.
** Consult your mobility equipment's owner guide for the proper slope/incline. Never exceed its recommendations.
For additional specs and dimensions see "Documents"
Available Options
Top Lip Extension (TLE)
The SUITCASE Singlefold Ramp has one optional attachment, the Top Lip Extension (TLE). The Top Lip Extension can add between 3" and 9" to your ramp's top lip, adding valuable reach to help your ramp clear the rear bumper of most SUVs or minivans.
Although it's our intent to keep all documents current, some documents are subject to change and may take time to update. If you are unsure whether you have the most current revision or if your product is different, contact our technical support.
What is the difference between the SUITCASE® Singlefold ramps and the SUITCASE® Trifold® AS ramp?

The SUITCASE Singlefold ramps fold in half one time and remain the overall length of the ramp when folded. The Trifold AS ramp folds in half and then in half the long way to make the ramp half as long and half as wide when folded.

What is the difference between the AS and non-AS?

The AS ramp has a black, high-strength, applied surface that is textured to provide excellent traction. The non-AS ramp is our standard surface where the slip-resistant tread is extruded into the aluminum.

What are the plates for at the top and bottom of the ramp?

There is a fixed top transition plate for secure placement with holes for attaching to the supporting surface. There are also two independently adjustable ground transition plates that allow for smoother transfers from ramp-to-ground and ground-to-ramp.

Can you connect multiple ramps together?

No. We suggest checking out some of our other ramps if longer lengths are needed. SUITCASE® Trifold® AS and GATEWAY™ 3G ramps are available up to 10' and PATHWAY® 3G ramps can be connected to achieve whatever length you need.

How do you keep the ramp from moving?

Use the provided clevis pins or screws through pre-drilled holes at the top of each section to secure the ramp to the supporting surface.

Are there handrails available with this ramp?

No. If you need a portable ramp with handrails, check out our GATEWAY™ 3G Solid Surface Portable Ramp, which has two different handrail style options.

Can this ramp be separated?

No. If you need a portable ramp that separates into two sections, check out our SUITCASE® Singlefold AS Ramp or our SUITCASE® Trifold® AS Ramp.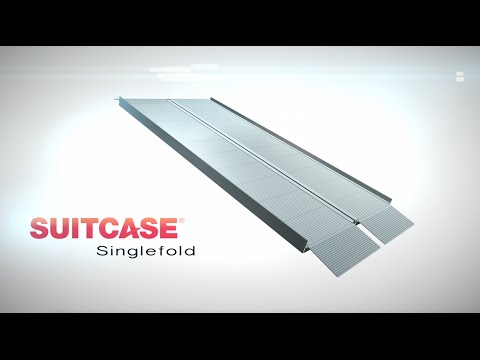 Product Overview - SUITCASE® Singlefold | EZ-ACCESS
We're At Your Service
Talk to a Representative Now!
Tools to Help You Get What You Need