PATHWAY® 3G Modular Access System
Ask a Question
Read More
Minimize
The PATHWAY® 3G Modular Access System consists of ramps, stairs, and platforms, all of which may be combined and configured in a variety of ways to provide a customized access solution for your home. Its unique features, including universal components and interchangeable surface and handrail options, make it an excellent choice when your residential access requirements extend beyond the scope of a portable ramp. If your needs change, the PATHWAY 3G can transition with you. This American-made modular system is made of durable aluminum and comes complete with our lifetime warranty. Powder coating options are also available. Call customer service for additional information, or click through the tabs below.
Related Products
These products may also interest you
This product also resides in the following industries:
These buttons will take you to the respecitve category
Infinite Configurations
The PATHWAY 3G allows for infinite modular ramp and platform configurations, creating safe and seamless access for both standard and unique entryways. Ramp lengths from 2'-8' and platform sizes up to 8'x5' enable you to overcome any access challenge at your home.
Superior Surface Options
Choose from two surface options - solid and expanded metal - to meet your needs.
The solid option features an extruded tread surface with raised ribs to provide exceptional slip-resistance.
Expanded metal utilizes diamond-shaped openings to allow multi-directional traction and reduced surface accumulation.
Premium Handrail Styles
Four handrail options are available. These component-based rail options are easy-to-assemble and customize. All styles are made of aluminum and feature a durable finish with a continuous top rail.
Single rails are a versatile, one-line handrail solution and are the most economical choice.
The most popular handrail configuration, the two-line rail provides an additional gripping surface by adding a second rail below the continuous top rail.
Vertical pickets offer an added level of safety, especially for children and small pets. Our pre-assembled aluminum inserts meet the 4-inch sphere rule for spacing.
Horizontal pickets offer an aesthetic option while maintaining safety. These horizontal inserts run parallel to the topmost rail.
Durable and Safe
The PATHWAY 3G is made of high-strength aluminum which will not deteriorate in the outdoor elements and features slip-resistant surfaces that maintain traction in any weather. Sides are finished and flush with no hazardous nuts or bolts protruding into the usable ramp area.
Aluminum Advantage
The PATHWAY 3G is virtually maintenance free, it will not rust or rot and is constructed from an environmentally friendly material.
Hassle-free Design
The ramp system will not impact your home's property value because it does not alter or add to the structure of the residence - no poured footers, no construction - just simple assembly.
Quick and Efficient Installation
The PATHWAY 3G installs quickly, which means minimal disruption for you and your family. Typically, a 24-foot system can be installed, including handrails, in less than an hour.
| | RAMP | PLATFORM | STAIR |
| --- | --- | --- | --- |
| Made of Aluminum | √ | √ | √ |
| Slip-resistant Surface | √ | √ | √ |
| Weight Capacity | 1000 lbs. | 1000 lbs. | 850 lbs. |
| Standard Widths | 36" and 48" (Solid Surface) | 48", 60", and 72" | 36" |
| Standard Lengths | 2', 3', 4', 5', 6', 7', 8' | | |
| Handrail Height | 34.5" | | |
NOTE: Weights and dimensions are approximate and subject to change.
For additional specs and dimensions see "Documents"
Available Options
Stairs
Available in seven sizes ranging from 8" to 56", the adjustable stair provides an alternative access point, allowing for convenient entry for everyone that accesses the home. These stairs can also be used as a standalone option anywhere around your home.
Gate
Our manual gate provides additional safety at the top of the stairs or the beginning of a ramp run.
Landing Pad
The 54" x 54" solid surface provides a safe and solid landing at the bottom of a ramp run. Ideal for use when a ramp ends in the grass or other soft surface. The landing pad eliminates the need for pouring a concrete pad.
Angle Platform
This time-saving, 45 degree platform option allows for multi-dimensional angle changes and uses less space than traditional platforms. All handrail and surface options are available on the angle platform.
Powder Coating
Offers customizable solutions to suit the functional and aesthetic requirements of your home. Available in three standard colors: Black, Tan, and Bronze.
Although it's our intent to keep all documents current, some documents are subject to change and may take time to update. If you are unsure whether you have the most current revision or if your product is different, contact our technical support.
Do concrete footers need to be poured?

Our multi-positional base feet have a large footprint which eliminates the need for concrete pavers or poured footers. They are also offset and rotatable, allowing you to tuck them under a ramp or set them close to a wall.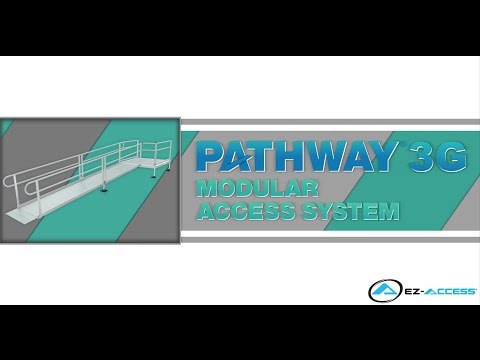 PATHWAY® 3G Modular Access System Video 0
We're At Your Service
Talk to a Representative Now!
Tools to Help You Get What You Need