TRANSITIONS® Angled Entry Plate
Ask a Question
Read More
Minimize
The TRANSITIONS® Angled Entry Plate is a portable stand-alone threshold plate with a slip-resistant applied surface for superior traction. This single-piece, formed aluminum plate helps to eliminate trip hazards and accommodates most mobility devices. The Angled Entry Plate is available in 8-, 10-, and 12-inch lengths. Browse through the tabs below to learn more.
Related Products
These products may also interest you
This product also resides in the following industries:
These buttons will take you to the respecitve category
Quick and Easy Setup
The Angled Entry Plate installs in minutes. The simple 1-piece design means no assembly or moveable parts; just set the plate in the desired position, and its ready to use.
Slip-resistant Surface
Features a superior applied tread for high traction.
High-strength Aluminum
Formed from high-strength aluminum which will not rust or corrode over time.
Pre-drilled Slots
Holes are pre-drilled for anchoring. Hardware included.
| | | | |
| --- | --- | --- | --- |
| | TAEP 08 | TAEP 10 | TAEP 12 |
| Slip-resistant surface | √ | √ | √ |
| Overall dimensions (L x W) | 8" x 32" | 10" x 32" | 12" x 32" |
| Height (Plate only) | 0.695" | 0.695" | 0.695" |
| Usable height* | Up to 1.312" | Up to 1.625" | Up to 2" |
| Weight Capacity | 700 lbs. | 700 lbs. | 700 lbs. |
| Weight** | 3.5 lbs. | 4.25 lbs. | 5 lbs. |
NOTE: Weights and dimensions are approximate and subject to change.
*Consult your mobility equipment's owner guide for the proper slope/incline. Never exceed its recommendations.
**Weights are approximate and may vary.
For additional specs and dimensions see "Documents"
Although it's our intent to keep all documents current, some documents are subject to change and may take time to update. If you are unsure whether you have the most current revision or if your product is different, contact our technical support.
Is there assembly required?

The plate is a simple, one-piece design with no assembly required.

What is the ideal application?

A fairly small threshold that needs to be converted into a smooth surface to ease the transition through the doorway.

What kind of surface does this have?

The Angled Entry Plate has a black applied tread for high traction.

How do you keep the plate from moving?

Screws are supplied for securing the plate to a wood surface.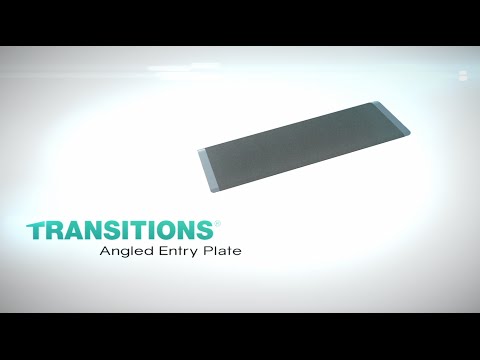 Product Overview - TRANSITIONS® Angled Entry Plate | EZ-ACCESS
We're At Your Service
Talk to a Representative Now!
Tools to Help You Get What You Need