TRANSITIONS® Angled Entry Ramp
Ask a Question
Read More
Minimize
The TRANSITIONS® Angled Entry Ramp is a portable, stand-alone threshold ramp featuring independently adjustable legs with swivel feet, allowing for vertical adjustment ranging from 1-3/8 to 5-7/8 inches in height. This self-supporting aluminum threshold ramp is ideal for doorways that swing in and out, uneven surfaces, or single step rises. Browse through the tabs to learn more about the Angled Entry Ramp.
Related Products
These products may also interest you
This product also resides in the following industries:
These buttons will take you to the respecitve category
Extruded Tread Surface
Offers slip-resistance to ensure traction in any weather.
Adjustable Legs with Swivel Feet
Allows for approximately 2 inches of vertical adjustments. The legs adjust independently, making the Angled Entry Ramp the perfect solution for uneven surfaces.
High-strength Aluminum Materials
This ramp is made completely out of high-strength aluminum which will not rust or corrode over time.
Pre-drilled Slots
Holes are pre-drilled for anchoring. Hardware included.
| | TAER 12 | TAER 24 | TAER 36 |
| --- | --- | --- | --- |
| Slip-resistant Surface | √ | √ | √ |
| Overall Dimensions | 11.877" x 36.25" | 23.875" x 36.25" | 35.904" x 36.25" |
| Height (Ramp Only) | 1.362" | 1.669" | 3.282" |
| Usable Height Range w/ 1" Swivel Feet* | 1.92" to 2.958" | N/A | N/A |
| Usable Height Range w/ 1.5" Swivel Feet* | N/A | 2.154" to 3.375" | N/A |
| Usable Height Range w/ 2.5" Swivel Feet* | N/A | 3.178" to 4.361" | 3.681" to 5.836" |
| Weight** | 5.15 lbs. | 10.4 lbs. | 15.15 lbs. |
| Weight Capacity | 700 lbs. | 700 lbs. | 700 lbs. |
| For Wheelchairs & Scooters | √ | √ | √ |
NOTE: Weights and dimensions are approximate and subject to change.
*Consult your mobility equipment's owner guide for the proper slope/incline. Never exceed its recommendations.
**Weights are approximate and may vary.
For additional specs and dimensions see "Documents"
Although it's our intent to keep all documents current, some documents are subject to change and may take time to update. If you are unsure whether you have the most current revision or if your product is different, contact our technical support.
With the adjustable feet, what is the minimum and maximum height of threshold it can accommodate?

The TAER 12 height range is 1.92" to 2.958". The TAER 24 comes with two different adjustable sized feet. The shorter set provide a height range of 2.154" to 3.375" and the taller ones provide a height range of 3.178" to 4.361". The TAER 36 height range is 3.681" to 5.836".

Does the plate at the bottom of the ramp move?

Yes, the TAER has an adjustable bottom transition plate so that it can provide smooth ramp-to-ground and ground-to-ramp transitions.

Does this ramp require assembly?

Yes, simply attach the two adjustable feet and set them to the necessary height.

Do the feet move?

Yes, the feet swivel, allowing this ramp to adapt to uneven surfaces.

How do you keep the ramp from moving?

There are pre-drilled holes for anchoring in the bottom transition plate and hardware is provided for drilling into a wood surface.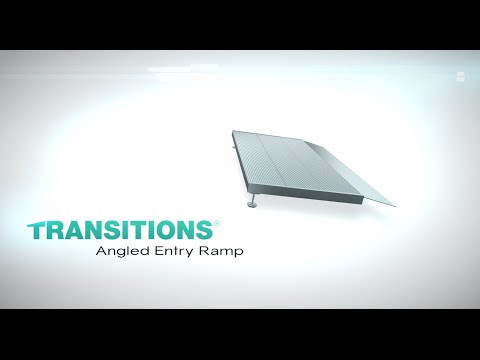 Product Overview - TRANSITIONS® Angled Entry Ramp | EZ-ACCESS
This EZ-ACCESS THRESHOLD RAMP made a world of difference & was easy to install. Thank you so very much for a wonderful product.

B.J.

I bought the 7ft last summer, but had a bump getting in the front door. This solves my problem. I called and talked with the man that sold me the 7ft and he had the answer for me.

L. C.
We're At Your Service
Talk to a Representative Now!
Tools to Help You Get What You Need