SUITCASE® Top Lip Extension
Ask a Question
Read More
Minimize
The patented Top Lip Extension (TLE) extends the use of aluminum SUITCASE ramps by increasing the standard 3" top lip transition plate to 9", allowing these ramps to clear the rear bumper of SUVs and vans. The TLE is compatible with the SUITCASE Singlefold AS Ramp, SUITCASE Singlefold Ramp, and the SUITCASE Trifold AS Ramp. Features an extruded slip-resistant surface and is made of aluminum for maximum strength. Sold as a pair.
Related Products
These products may also interest you
This product also resides in the following industries:
These buttons will take you to the respecitve category
Easy Attachment
The Top Lip Extension (TLE) simply attaches to the ramp's top lip transition plate.
Slip-resistant Surface
The extruded slip-resistance surface of the Top Lip Extension (TLE) allows for superior traction.
Made of Aircraft-quality Aluminum
The Top Lip Extension (TLE) is made of aluminum for strength and durability.
| | Top Lip Extension (TLE) |
| --- | --- |
| Made of aluminum | √ |
| Slip-resistant surface | √ |
| Usable size (H x L x W) | 2.25" x 8.5" x 13.75" |
| Weight* | 5 lbs. per set |
| Weight capacity | 500 lbs. |
| For wheelchairs & scooters | √ |
NOTE: Weights and dimensions are approximate and subject to change.
* Weights are approximate and may vary.
** Consult your mobility equipment's owner guide for the proper slope/incline. Never exceed its recommendations.
For additional specs and dimensions see "Documents"
The use of a TLE reduces the overall ramp weight capacity to 500 pounds.
Although it's our intent to keep all documents current, some documents are subject to change and may take time to update. If you are unsure whether you have the most current revision or if your product is different, contact our technical support.
What ramps can the TLE be used with?

The TLE can be used with any of our aluminum SUITCASE® ramps.

Is there a bolt that attaches the TLE to the Top Transition Plate?

Yes, after inserting the TLE, there is a carriage bolt that secures the TLE to the Top Transition Plate.

Are TLEs sold in pairs?

Yes, the TLE comes in a set of two so that one can be used for each side of the ramp.

Will the TLE affect the amount of weight I can use on the ramp?

Yes, the use of the TLE reduces the weight capacity of the ramp to 500 lbs.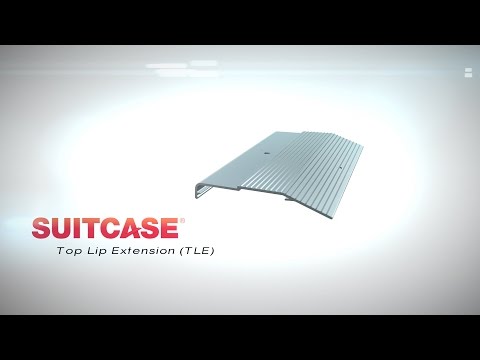 Product Overview - SUITCASE® Top Lip Extension
We're At Your Service
Talk to a Representative Now!
Tools to Help You Get What You Need