PATHWAY® 3G Modular Access System
Ask a Question
Read More
Minimize
The PATHWAY® 3G Modular Access System consists of ramps, stairs, and platforms, all of which may be combined and configured in a variety of ways to provide a customized access solution for your home. Its unique features, including universal components and interchangeable surface and handrail options, make it an excellent choice when your residential access requirements extend beyond the scope of a portable ramp. If your needs change, the PATHWAY 3G can transition with you. This American-made modular system is made of durable aluminum and comes complete with our lifetime warranty. Call customer service for additional information, or click through the tabs below.
Related Products
These products may also interest you
This product also resides in the following industries:
These buttons will take you to the respecitve category
Infinite Configurations
The PATHWAY 3G allows for infinite modular ramp and platform configurations, creating safe and seamless access for both standard and unique entryways. Ramp lengths from 2'-8' and platform sizes up to 8'x5' enable you to overcome any access challenge at your home.
Superior Surface Options
Choose from two surface options - solid and expanded metal - to meet your needs.
The solid option features an extruded tread surface with raised ribs to provide exceptional slip-resistance.
Expanded metal utilizes diamond-shaped openings to allow multi-directional traction and reduced surface accumulation.
Premium Handrail Styles
Four handrail options are available. These component-based rail options are easy-to-assemble and customize. All styles are made of aluminum and feature a durable finish with a continuous top rail.
Single rails are a versatile, one-line handrail solution and are the most economical choice.
The most popular handrail configuration, the two-line rail provides an additional gripping surface by adding a second rail below the continuous top rail.
Vertical pickets offer an added level of safety, especially for children and small pets. Our pre-assembled aluminum inserts meet the 4-inch sphere rule for spacing.
Horizontal pickets offer an aesthetic option while maintaining safety. These horizontal inserts run parallel to the topmost rail.
Durable and Safe
The PATHWAY 3G is made of high-strength aluminum which will not deteriorate in the outdoor elements and features slip-resistant surfaces that maintain traction in any weather. Sides are finished and flush with no hazardous nuts or bolts protruding into the usable ramp area.
Aluminum Advantage
The PATHWAY 3G is virtually maintenance free, it will not rust or rot and is constructed from an environmentally friendly material.
Hassle-free Design
The ramp system will not impact your home's property value because it does not alter or add to the structure of the residence - no poured footers, no construction - just simple assembly.
Quick and Efficient Installation
The PATHWAY 3G installs quickly, which means minimal disruption for you and your family. Typically, a 24-foot system can be installed, including handrails, in less than an hour.
| | RAMP | PLATFORM | STAIR |
| --- | --- | --- | --- |
| Made of Aluminum | √ | √ | √ |
| Slip-resistant Surface | √ | √ | √ |
| Weight Capacity | 1000 lbs. | 1000 lbs. | 850 lbs. |
| Standard Widths | 36" and 48" (Solid Surface) | 48", 60", and 72" | 36" |
| Standard Lengths | 2', 3', 4', 5', 6', 7', 8' | | |
| Handrail Height | 34.5" | | |
NOTE: Weights and dimensions are approximate and subject to change.
For additional specs and dimensions see "Documents"
Available Options
Stairs
Available in seven sizes ranging from 8" to 56", the adjustable stair provides an alternative access point, allowing for convenient entry for everyone that accesses the home. These stairs can also be used as a standalone option anywhere around your home.
Gate
Our manual gate provides additional safety at the top of the stairs or the beginning of a ramp run.
Landing Pad
Provides a safe and solid landing at the bottom of a ramp run. Ideal for use when a ramp ends in the grass or other soft surface. The landing pad eliminates the need for pouring a concrete pad and is available with or without handrails. Ground transition options are also available.
Angle Platform
The 45-degree platform allows for multi-dimensional angle changes and uses less space than traditional platforms. Available in all surface options and select handrail styles.
Low Profile Platform
Serves the same purpose as our standard platform except this low profile version is designed for use with thresholds between 1-1/2" to 3-1/2" high. Available in multiple sizes and all handrail styles (shown with two-line rails).
Although it's our intent to keep all documents current, some documents are subject to change and may take time to update. If you are unsure whether you have the most current revision or if your product is different, contact our technical support.
Do concrete footers need to be poured?

Our multi-positional base feet have a large footprint which eliminates the need for concrete pavers or poured footers. They are also offset and rotatable, allowing you to tuck them under a ramp or set them close to a wall.

Does my modular ramp system have to go straight out or can it turn?

You can configure the system to be a straight run or it can turn left or right by simply using a turn platform. The ramp system can also incorporate a switchback by using a turn back platform or it can extend at an angle by using a 45 degree angle platform. The system can be configured to meet your exact needs.

What sizes do the platforms and ramps come in?

We offer standard resting platforms in the following sizes: 4'x4', 4'x5', 5'x5', 5'x6', 6'x6' and 8'x5'. Ramps are 36" & 48" wide and come in lengths of 2'-8'. Custom sizes are available upon request.

What do I use for ice and snow removal on ramps, platforms, and steps?

We suggest using Magnesium Chloride salt substitute. Check out a blog we wrote on this!

Why don't you sell platforms without handrails?

Safety is important to us and selling platforms with handrails is our standard.

What kind of tread is used on this ramp system?

Our platforms consist of a knurled, extruded tread for multi-directional traction, and our ramps feature a raised-rib, extruded tread for ultimate slip-resistance.

Can I get the black applied surface on this ramp?

No, it is not available on our modular ramp system. This surface is available on two of our SUITCASE® portable folding ramps.

How long will installation take?

Depending on the configuration, installation time will vary, however a 24-foot system can typically be assembled with minimal tools in less than 30 minutes.

Do the steps have to connect to one of your platforms?

The steps can not only connect to one of our platform but they can also easily connect to an existing platform or deck because they have 4 independently adjustable legs.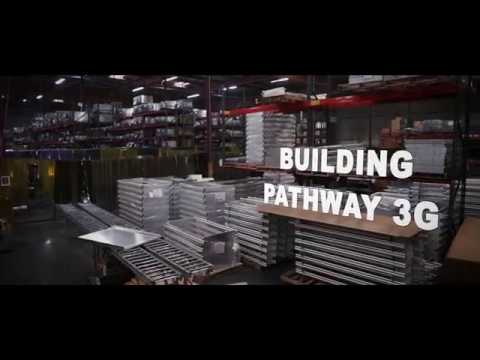 PATHWAY® 3G Manufacturing | EZ-ACCESS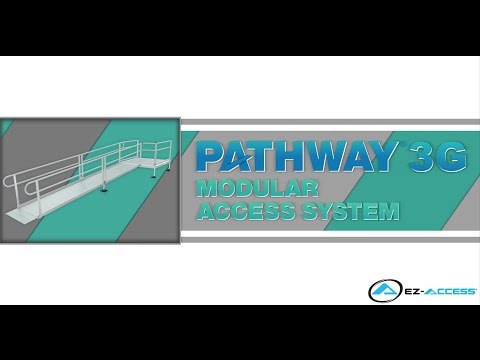 PATHWAY® 3G Installation | EZ-ACCESS
My sister and I are in our late 60's & early 70's. We can now get our brother in and out of the house without killing him or ourselves. The ramp is wonderful and a blessing. We had to get him up and down 4 steep steps before the ramp was installed. The people who installed the ramp did excellent work and explained everything to us. Thank you so much.

S. W.

Looks good, easy access into & out of house. Easy to operate scooter on ramp. I have more independence to come & go whenever I want to go. I thank your company & everyone for this help that you have provided. May God bless you all. Sincerely,

J.P.

"I plan to go visit relatives, primarily my 85 year old mother. I really like the quality of the material of the ramp. It is very sufficient as far as width is concerned, also it is solidly installed as though it was made of concrete."

Joseph R.

"I love the ramp, also sitting outside. I love it all. I will tell other people. Thank you very much."

Willie K

I'm very happy with the pad and ramp. The guys were friendly and fast. It was a nice change.

J.H

They did an excellent job on the Pathway system. They were very professional & work very hard to do a good job. Yes, I will recommend your company to others. Now I feel more confident with handrail up. He can hold on. Thank you so much.

S.Y.

Ramp was easy to install, very strong, looks good. Parents love it.

G.P.

"Very sturdy, easy to clean. Safe to use."

G. Morenci

It is a lot easier to leave the home with the security of the ramp. Our first outing will be to the doctor's office and lunch afterwards. Thanks to all who made this convenience possible. It will make life a lot more manageable.

James R

Dairy Queen for a hot fudge Sunday. We feel safe now. We had no exit on this end of the house if a fire started at the other end. Thank you.

W. T.

The ramp system makes entering and exiting the home hassle-free and allows me to be more independent. Thanks!

Gary P

"So pleased with the ramp. This ha helped my husband out a lot. No more steps where he can trip & fall. This is a great blessing. Thank you."

Charles M.

"Nice looking ramp-well constructed."

Richard S.

Now I can go to the store by myself so see you later.

Billey S

We are so excited to have the ramp to finally get out of the house in the wheelchair. Jeremy did an excellent job! Very nice and professional.

Randall G.

I can now get my husband out of the house by myself. Before I had to have someone help me get him out.

Mrs. Paul Y

I love the system, it is nice and safe and I'm sure I'll get much use of it. Men did excellent job of assembling it and it looks beautiful. Thank you so very much.

Robert & Lucille D

We love the EZ-ACCESS Pathway now my grandpa don't have to use the steps anymore and we don't have to worry about him falling.

Grandchild of Howard P.

The first place my husband went was to the driveway without assistance, just to get outside after one year on his own. It may not seem like much to someone without disabilities, but the smallest thing you can accomplish on your own is huge! My husband will no longer have to struggle with climbing the stairs on his knee (without one leg) and falling! Thank you EZ-ACCESS!

Mrs. John S.

The ramp is very nice looking. Looks well constructed. The installer did a great job putting it in. He was also very nice and informative about use and care of ramp. Thank you.

Norm M.

Freedom to get out of the house for over 6 months being shut up in the house. Thank EZ-ACCESS for my Freedom and the VA Hospital.

Martin H.

We won't need to worry about falling again trying to get on the porch!! Thank you,

Johnny H.

Both the ramp and installer … have been an absolute blessing to my husband Roy, also our family. It has given my husband back some greatly missed independence and safety! He now can not only walk to our vehicle- access our front porch where he can watch and interact with our grandchildren – family- neighbors. Your help in all of this is greatly appreciated and we give all involved our heartfelt thanks!

Roy, Martha O & family

Having a Pathway Modular System provides me an element of safety in an environment that had caused me numerous falls in the past. The first access was on April 25, 2014 when I was able to get in a car, go to the Pharmacy for medicine, gas station for gasoline, bank for deposits and grocery store for shopping. It was the first time out of my house since September 2013.

Cyril K.

To whom it may concern, I want to thank you, as a veteran that has been in a wheelchair for about 6 years, this ramp has made a difference in how I get into my home. Your distributor was very helpful & prompt in getting it up. This will make my life a lot easier & quality of life will be better. Sincerely & Thank you.

G.A.C.

Good product, has made entry and exit access very easy for our daughter.

CD.

"This will be a great benefit to us. We will finally be able to get our uncle to his doctor's appointment. He was unable to make it upstairs. We can easily get his wheelchair out to the vehicle now. Thank you."

J. Pieceski

The ramp makes our home look good. Instead of taking away from the landscaping, it adds to it. Our neighbors are amazed how nice it is. Thank you.

K. Cooper

Make easier for getting in mobile home. Army vet, make life more easy. Thank you!

T Thomas

Getting in and out of home easily. Thank you.

R. Murphy

"They system is great. Very, very sturdy, looks nice in the yard. The installers were very, very friendly, very informative, explained everything you need to know about it and what they were doing to install it. There aren't enough words to say thank you to EZ-ACCESS..."

J. Rapant

Safety- I won't fall as easy. Thank you so much!

G. Chapman

I am finally able to get out of my house after almost 4 years of being cooped up here and not able to get anywhere. The first place I want to go is shooting.

C. Byers Jr.

This gives my father a safety entrance and exit of his home. The two gentlemen that installed the ramp were absolutely wonderful and we are really grateful the VA of Butler chose EZ-ACCESS for the ramp and installation.

R. Pallerino

I love the ramp most because I can sit in my wheelchair and ride out of the house to car. Also, it provides a safety as I cannot walk and my wheelchair will not go through the other door to outside in case of fire.

T. Broyles

"It makes it easy for me to go outside with my wheelchair."

D. Tice

"I love the ability to leave and return to our home when use of my scooter is required."

Harry

"We love the ramp because my husband can walk out with his walker easily and be independent again and be free to go for walks again with his walker. Thanks so much."

A. Cummings

"Finished job in approximately 2 hrs or less. The ramp is a great way for me to use my walker or wheelchair to get me in/out of my house with little effort. I am very pleased with the material ramp is made of and clean-up was just great. I know I will be able to get out in the general public once again. Thanks so much."

Sherri H.

"What I love most about my Pathway ramp is being able to ride my power chair from my front door to my vehicle. I now will be able to park my vehicle further back on my driveway and get in out from under the sticky pecan tree sap, and not have to walk so far and end up short of breath. I don't know where I will go first, but think I will not be as afraid to try to go anywhere now."

J Miller

I love the new ramp completely. Now, I can get out on my back porch any time I want to. The first place I plan to go is around my property! Where I used to walk, I can now ride! most of all, though I can get out of the house and go without hindrance, anywhere I want to go.

William

"Looks great. Works even better than a built in wood ramp, especially over time"

Gloria

The ramp is great, and well put together. It is a lot of help to me.

Robert

This ramp allows me independence. I can move in and out of my house without the aid of my spouse. I roll out the door onto the ramp. I love it. Freedom!!

Gotry

Outside! Much easier now to get in and out of house with my walkers and wheelchair as i can barely go up steps. This is much safer for me.

George

The ramp has made things easier getting to & from to all our Drs. appointments.Thank you so much

Ray

it was able to be installed in a single day. Grandfather loves it, and has given him freedom to get out of house by himself.

Don

The safety of the ramp system is far better than the homemade wood ramp i had previous. I am able to enter and exit with ease and safety. First place i will go is for a ride around my neighborhood. Thanks.

Wilber

The EZ-ACCESS Pathway Ramp is awesome! It will allow my husband, Ron, a Marine easier access to our backyard and the freedom to be mobile once again!

Ron

I'd like to thank EZ-ACCESS for making such a great looking ramp... My father is 96 yrs old and has not been able to be outside, except to the doctors, since Christmas. He is going to love to be able to go sit outside now. Thank you

Linda

The room on the platforms make it very easy to go in & out of the house

Kenneth

This ramp will help me so much. The installation was quick, clean, and better than I could hope for. Thanks so much.

C. Smith
We're At Your Service
Talk to a Representative Now!
Tools to Help You Get What You Need